Venues
Five Fish Venues for Brown & Rainbow Trout and Roach & Perch
Parking is available at all waters.
The approach roads to Dindinnies and Knockquhassen Reservoirs are rough and visitors are advised to take care to look out for farm vehicles and livestock.
All Lochs may be visited on the same day if desired or for the duration of the permit dates.
Daily and weekly permits can be purchased from The Sports Shop, 86 George Street, Stranraer, Tel: 01776 702705, where quality tackle and bait can also be obtained. Availability of these in 2022 will depend on Scottish government covid restrictions.
---
Dindinnie – DG9 0LE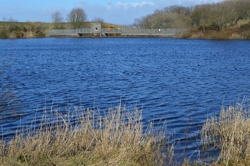 Fly Only. A compact 30 acre reservoir, again within 10 minutes drive of Stranraer, requiring a little care as the last quarter mile or so of road is unmetalled, however on arrival there is the ample parking within the designated area on the brow of the hill.
This venue is well stocked with hard fighting Rainbows and Brownies and also has a head of wild Brown trout. Hidden at the far end is a hidden bonus The "Wee Dam" also stocked but requires a more cunning approach as the water is very deep in places and surrounded by heavy vegetation so needs a degree of skill to fish successfully. Fly fishing is the only permitted method here.
Knockquhassen – DG9 8HX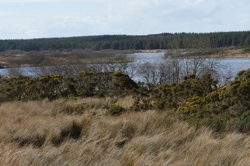 Fly Only. Within 15 minutes of Stranraer the approach requires a bit of care up a single track road with the last couple of hundred yards being a bit rough.
This sprawling reservoir is made up of a mixture of shallows and deep troughs and although within only a short distance of Stranraer you could easily believe you were miles out in the wild as it feels so peaceful with only the wildlife for company. This is not the easiest of fishing but well worth the effort when you connect with one of our elusive hard fighting Rainbows stocked here. Brown trout are also stocked here and they complement the natural head of smaller wild Brownies which populate mainly the shallower end of the reservoir. This venue is a real delight for the dedicated fly angler.
Penwhirn – DG8 0AY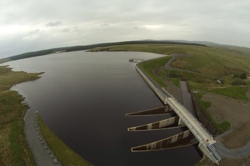 Fly Only. A large hill reservoir about 20 minutes drive from Stranraer over a single track but well surfaced road offering wild views of moorland and solitude. Great care required as deep drop offs are not always visible, the wearing of life jackets is recommended.
This reservoir has recently had its water level raised to increase its capacity to serve the needs of the local area. The dark peaty waters offer the fly fisher the opportunity to test his skills against a population of wild Brown trout. The fish here are generally of small size but with the occasional exceptional large specimen coming to the fly to increase the adrenalin rush.
Soulseat – DG9 8NY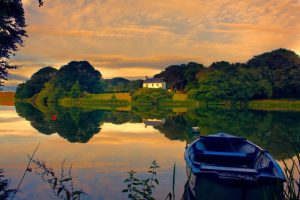 Fly, Bait and Spinning. A large 80+ acre loch, well stocked with lively Rainbow and Brown trout and with the occasional Roach and Perch thrown in for good measure. This venue is within 10 minutes drive of Stranraer and offers easy access with ample parking facilities for the less mobile angler.
Bait, spinning and fly fishing are all permitted here. An ideal location for the younger generation to learn some of the joys and mysteries of fishing, not to mention the frustrations!
This loch has a tremendous reputation for late evening fishing, in particular for the dedicated fly angler.
Magillie- DG9 8NY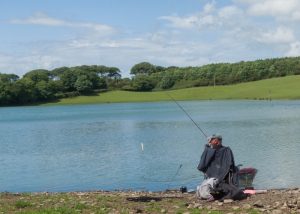 Fly, Bait and Spinning. Loch Magillie is a new venue for visitors and contains a good head of roach, rudd and perch. This is an ideal location comparatively safe for youngsters wishing to learn the art of angling as well as great fun for a relaxing day for experienced coarse anglers with catches approaching 100 being not uncommon.
White Loch- DG9 8SJ (Members Only)
Fly, Bait and Spinning. The White Loch sits on the Earl Of Stair's front garden and is overlooked by Lochinch Castle. This Loch used to be predominantly wild Brown and Sea Trout fishing. However, this has changed in the past decade to a mainly Pike water. Pike anglers can expect catches reaching well into the 20lb mark with many doubles landed in between. There are also a good stamp of roach and perch to be expected from here, if you can manage to land them without the pike taking them. Although the numbers of trout have declined in here, there are still the odd specimen to be caught, with a 16lb wild brown trout being taken in the past few years.
Black Lochs – DG9 8SJ (Members Only)

Fly, Bait and Spinning. There are 2 Loch's called the Big Black and Wee Black which are joined by a small canal. Similar to their neighbour the White Loch, the Blacks were predominantly trout Lochs until the last decade. Again, these are now associated with monster pike, being caught in decent numbers, with 30lb fish being a fairly regular catch. These Lochs also have a great stamp of Roach and Perch, but again you could be facing a battle with a Pike to land these. Although these are noted as members only waters, visitor anglers are permitted to fish, providing they are accompanied by a full member of the association. Parking for the wee black can be found on the road end prior to entry to the gardens, where a short 5 minute walk is required. For the Big Black, parking can be found at Stair Estates Office at Sheuchan Farm off New Luce road.